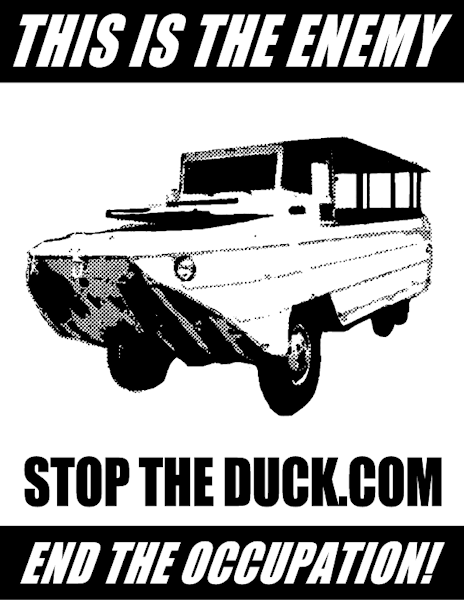 Email: Send us your examples: feedback@stoptheducks.com.
Facebook: Join us on Facebook and help Stop the Duck!.
PDF Poster: PDF of a 8.5" x 11" Poster.
PDF Stickers: PDF of 4 stickers with "Le Canard Non!".
PDF Stickers: PDF of 5 Bumper-Stickers.

DUKW boats operating under "Ride the Ducks" in US Cities are a public nusiance and can even be a threat to public safety.
"Ride the Ducks" across the US:
Should not be allowed to use our public roadways
Should not be premitted to use public waterway access
We are concerned about the safety and public nuisance caused by DUKW operators in US Cities. As citizens, we would like to affect changes necessary to ensure that commerical ventures utilizing these vehicles are not allowed on our Road and Waterways.
Revoke the License/Permission of "Ride the Ducks" to use our Public Roads and Waterways.
Threats to Public Safety
Sep 2015 on Aurora Bridge:
4 Killed, 52 injured as 'Duck' Vehicle, bus collide on Aurora Bridge. Komo News
Aug 2015 lane hogging:
Ride the Ducks vehicles caught hogging Seattle 'bus only' lane. Komo News
Nov 2012 runs over Motorcyclist:
New video shows horrific 'Ride the Ducks' crash. Komo News
Aug 2010 at Sunnyside Public Launch:
Two representatives of "RideTheDucksOfSeattle.com" were stationed at the public-launch to coordinate the entry/exit of DUKW boats at the Sunnyside Public Boat-Launch. When queried as to the reason, it was learned that a DUKW nearly collided with another citizen's vehicle as it used the launch.
Aug 2010 on Lake Union:
A DUKW boat from "RideTheDucksOfSeattle.com" nearly front-end collided with a small 14' sailboat on Lake Union. The driver of the DUKW was not attentitive to boat traffic ahead of the vehicle and his head/torso was turned to the back of the vehicle as he entertained the boat's patrons. The collision was adverted by the sailboat turning 180 degrees and the driver putting the boat in full-reverse.
July 2010 in Philadelphia:
DUKW boat collides with a barge, killing TWO tourists. CNN
Dec 2001:
Operated by "RideTheDucks.com" a DUKW boat sank in Lake Union. The driver "forgot to put in the drain-plug". Seattle PI
In 2000:
A part fell off the engine of a Milwaukee amphibious tourist boat, causing the vessel to sink in Lake Michigan. The 17 passengers and two crew members were rescued, and no one was injured. Q13Fox
May 1999 in Arkansas:
DUKW boat floods and kills THIRTEEN tourists. Article
In 1999:
Thirteen people died in 1999 when an amphibious boat sank to the bottom of Lake Hamilton in Arkansas in an accident the National Transportation Safety Board blamed on inadequate maintenance. Investigators determined that the vessel, built by the U.S. Army in 1944, was not designed for passenger service and as a result lacked the proper buoyancy to remain afloat. The NTSB recommended several safety improvements to prevent future accidents. Q13Fox